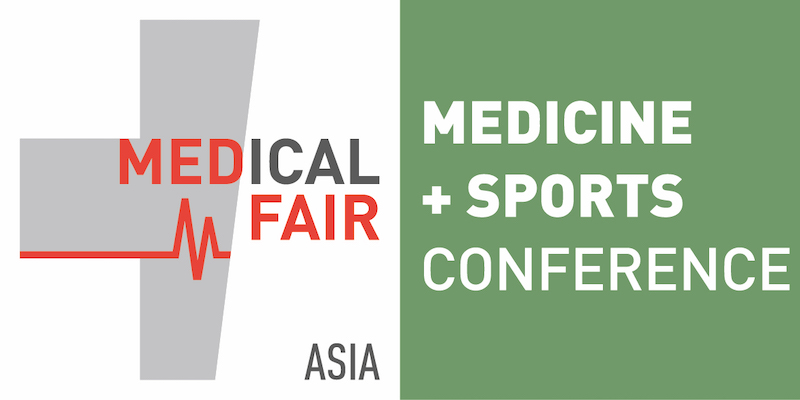 The MEDICAL FAIR ASIA MEDICINE + SPORTS CONFERENCE will once again make its return to MEDICA FAIR ASIA. A multi-disciplinary thought-leadership conference, the full-day programme will bring together regional and international leading sports medicine and sports science experts, renowned physiotherapists and healthcare professionals, professional athletes, and sports techies and visionaries for an insightful dialogue on innovative approaches in prevention, training, regeneration and rehabilitation.
The MEDICINE + SPORTS CONFERENCE ecosystem was founded in 2013 at MEDICA, the world´s largest medical trade show. The conference has been THE highlight of MEDICA for the past nine years and will once again be held during MEDICA 2022. In 2016, the leading international platform for innovation and an interdisciplinary dialogue made its way to ASIA. The MEDICAL FAIR ASIA MEDICINE + SPORTS CONFERENCE is the benchmark event for sports medicine and related disciplines in Asia.
The MEDICINE + SPORTS CONFERENCES have been recognized by the medical chambers as advanced training events for 9 years and are associated with the acquisition of advanced training points.
Agenda
Date: 1 Sep 2022
Venue: Conference Room, Hall D1
9:00 h
Conference Welcome by MFA, AFSM & SMAS
9:30 h

SESSION 1 - Sports and Exercise in the Pandemic

(supp. by SSMC@CGH, EIMS & SMAS)

COVID-19 and Physical Inactivity – Active Health Ecosystem – DIY: Maxi- mise Exercise with Wearables & Apps

11:15 h

SESSION 2 – Injury Prevention & Return to Play Evidence Practice

(supp. by AFSM)

Injury Prevention – Movement Analysis – New Approaches in Diagnostics

Prof. Patrick Yung

- President, Asian Federation of Sports Medicine (AFSM), Chairman, Department of Orthopaedics and Traumatology, The Chinese University of Hong Kong

"Sports Injury Prevention – Where we are & where we go?"

Dr. Kam Ming Mok

- Co-Op Member, Asian Federation of Sports Medicine (AFSM), As- sistant Manager (Physical Education), Office of Student Affairs, Lingnan University, Hong Kong

"We judge from what we see – Evidences from movement analysis"

Ms. Kate Yung

- Physiotherapist, Strength & Conditioning Specialist

"Return to play- a perspective from the complex systems approach"

12:30 h
Networking Lunch
13:30 h

SESSION 3 – Optimizing Performance and Recovery in Elite Sports

(supp. by AFSM)

Individualization of Training – Sports Psychology – Recovery

15:00 h

SESSION 4 – Performing Arts Medicine

(supp. by SSMC@CGH, EIMS & SMAS)

Individualization in Diagnostics and Training – Dance - Instrumental - Voice

17:00 h

SESSION 5 – Digital Innovations in Sports and Healthcare

Wearable Technologies – Health apps – Digital Tools for Diagnostics, Training and Rehabilitation

"Intelligent performance management for player health"

17:30 h
Summary and Closing Remarks
Contact Details
Supporting Partners